STARFIBER MICROFIBER 15 INCH FLOOR MOP CLEANING SYSTEM FOR GREEN CHEMICAL FREE CLEANING PROTECTING THE INDOOR ENVIRONMENT FROM HARSH CLEANING CHEMICALS!
Starfiber MOPPING microfiber CLEANING SYSTEM SOLD in OVER 60 countries around the world!
STARFIBER 15 inch Microfiber New Classic MopKit with Snap On Connector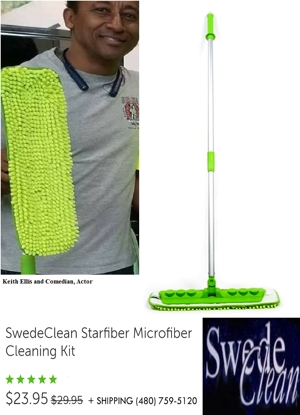 to buy - use add to cart button above!
15 in wide base with velcro and 17in chenille pad. 360 degree swivel. Snap On Connection and SUPER light aluminum handle with grip friendly top. Handle weigh only 11 oz and expands to approx 55 in long.and can be used with all StarFiber "SnapOn" products! StarFiber SwedeClean MicroFiber Green Cleaning System for healthy cleaning using only water to clean protecting the indoor environment from harsh cleaning chemicals. However, if desired, you can use mild chemical cleaners (that do not contain bleach) in conjunction with the StarFiber mops and Cloths without damaging the StarFiber material and minimal impact on the indoor environment. Some people add vinegar to the water.
Scroll down to check out all the different floor cleaning pads!