StarFiber MicroFiber Floor Pads
Picks up 75% more dirt and dust per swipe than regular mops- microfiber pads absorbs seven times its weight in liquid. Sewn edges eliminate fraying for extended use- Save over using disposable Swiffer. This StarFiber removable pad can be laundered up to 500 times!
Starfiber 17 x 5 in Pro Blue Cleaning / Polishing Micro Gliss Cleaning and Polishing Pad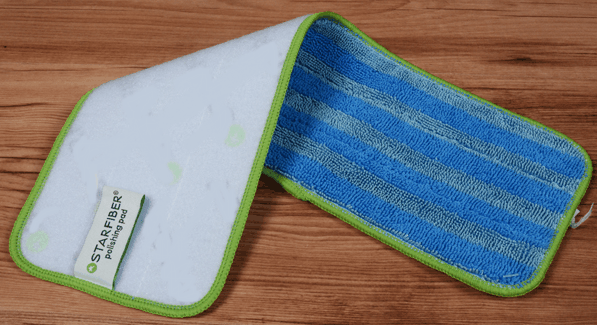 Click on add to cart button to buy
- glides easily and yet cleans amazingly! Leaves all types of floors and even glass, mirrors and your patio windows streak free. The backing is a bit stiffer so instead of wringing it out as you clean have an extra 2 or 3 around. If you prefer a more wringable friendly backing scroll down to Cut Pile or you can use the popular chenille pad below. Use the StarMop wet to remove ground-in dirt, dried-in stains, mud, sticky messes, wet spills, scuff marks, etc. (tip: for tough scuff marks, while mopping, press your foot on top of the base, and push down for pressure). Lightly dampen the Mop Pad with water from a spray bottle. Do not over wet the mop pad. If pad gets heavily soiled while cleaning, simply remove pad from the base, and rinse out under the faucet. The StarMop can be used effectively with just water but some people like my wife uses Lysol as she loves the smell! Married for 35 years I'm not going to argue with her:-) Others prefer using vinegar for disinfection. The microgliss pad is replacing the old cut pile style below that so many of you come to love with it's soft and plush pile! You can still buy that one. Just scroll down and you'll find it!