PERKY BROOM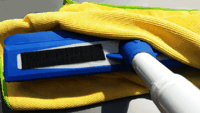 Clean patio windows at Home or Auto Windows and Body. Add a Velcro strip and attach a StarFiber microfiber cloth for cleaning and drying. If broom gets dirty and "messy" it's really easy to clean up!

Built in Squeegee for Quick Clean-up of Spills and Secure thread insert for handles with US threading. Purchase with or without handle. 12 inch wide cleaning path. Broom can be used for wet or dry cleaning!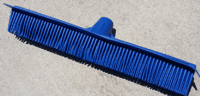 Soft Silicone Rubber Broom For Non-Scratch Cleaning and Maintaining of All Types of Floors and Surfaces. Use to Remove Hair, Liquids, Dirt, Lint and Much More from Hard floors, Carpet, Upholstery etc.
When using it on rugs or carpet to remove pet hair use a short pullback motion toward you!
You can also use the "rubber broom" to remove snow from your car!