it's all about cleaning since 1990!
IF OUR PRODUCTS DON'T PERFORM - WE DON'T SELL'EM!
Spotty is an easy and quick way of making your carpet and tile look fresher and cleaner!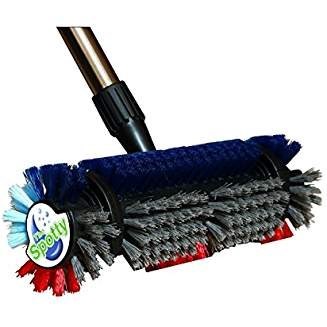 Click on add to cart button above to buy
Four tools in one.
Soft bristles for spot removal.
Stiff bristles for deep cleaning.
Gray bristles clean tile surfaces & scuff marks.
Red bristles clean deep into dirty grout joints.
Adjustable pole extends from 33" to 60"
FOR CARPETS....IN BETWEEN DEEP CLEANING..... SPRAY SPOT OR TRAFFIC AREA.... AGITATE... LET DRY .... VACUUM = FRESH, SPOT FREE CARPET